Hockessin – Physical Therapy
---
Our Hockessin location is right in the heart of Hockessin, in Stone Mill Office Park. It offers Physical Therapy as well as a full service fitness center, including wellness services such as Massage and stretching services. Our staff is carefully trained to help identify your goals and get you more active, independent, and mobile. They are always helpful, kind, and caring for your needs.
We give you FULL EFFORT, EVERY TIME. You will love our private rooms, one on one care, and convenient parking. We have early morning and evening hours for before or after work. If you live or work in Hockessin, Greenville, Centerville, or Newark, Delaware, we are convenient for you!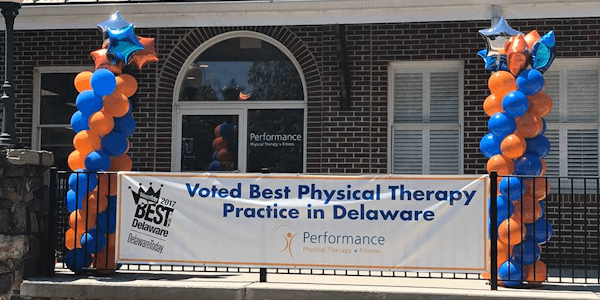 Address
720 Yorklyn Rd., Suite 150
Hockessin, DE 19707
Contact Information 
Phone: (302) 234-2288
Fax: (302) 234-2869
Email: Info@pptandfitness.com
Hours of Operation
Monday – 6:30 AM – 8:00 PM
Tuesday – 6:30 AM – 8:00 PM
Wednesday – 6:30 AM – 8:00 PM
Thursday – 6:30 AM – 8:00 PM
Friday – 6:30 AM – 7:00 PM
Saturday – 7:00 AM – 3:00 PM
Sunday: CLOSED
Clinic Services
Physical Therapy
Gym and Fitness Center
Personal Training
Massage
Clinic Specialties
Pain Management

Neck Pain
Back Pain
Hip Pain
Shoulder Pain
Elbow & Wrist Pain
Foot Paint

Joint Replacement
Difficulty Walking
Concussion
Vertigo/Dizziness
Balance Issues
My mom requested I write a review for her. She went to Performance for severe vertigo and saw Lynn. She was extremely pleased with her treatment there- everyone there was very personable, patient, and understanding. She felt comfortable being treated there, even during a time where she was feeling very disoriented due to her illness.
Kayte Houtz
February 10, 2020
I found the staff at Performance Physical Therapy to be very professional and friendly. Very easy to make or change appointments. My therapist Brian was amazing, kept my spirits up through the tough visits, always paid attention and listened to my concerns! It's been a long road, Thanks Brian!
carol donnelly
January 28, 2020
Following rotator cuff surgery, Amanda Vito worked with me to rehab my shoulder. She is thorough, personable and highly knowledgeable of the maneuvers and exercises that eventually will lead me to resuming my normal activities. Looking forward to gardening and golf in the Spring. Thanks, Amanda.
Alice Barron
January 16, 2020
I had a significant amount of improvement working with Amanda over a six week period. My strength and flexibility from when I started to my completion was remarkable. I also like the location of this office and everyone on staff is positive.
Loren
January 14, 2020
My experience has been great. The staff has been execellent to work with. Thank you
dianne marshall
December 30, 2019
I have met with both Amanda and Brian at Performance Physical therapy - they're both wonderful! Im currently dealing with Plantar Fasciitis from wearing new shoes while running, and I feel like Brian truly wants me to run again and the exercises are always clearly explained. I had some foot pain while out of town visiting family and emailed Brian. He responded quickly and with some advice (icing my foot) that helped alleviate the pain quickly until I was able to get back in for a session again. Scheduling is easy and you can schedule a few weeks out to get times that work with your schedule. I was nervous about needing PT but I'm glad I chose this place and they're helping me get better.
Christine Rakowski
December 30, 2019