Have you ever watched a cat or dog as they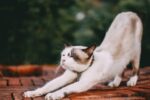 wake up?  They roll over, they get really long, and they s-t-r-e-t-c-h everything out!  After a big yawn, they stretch a little more, then they go and take on the day.  Have you ever thought to yourself, 'Gee, if I could have that done to me, I would feel great!'
Well, now you can feel great any time you want with our exclusive 'stretch-n-go' program.  Our fully trained 'stretchologists' give you one on one attention to all the areas on you that are tight and need a good stretch.  Our stretchologists tailor the stretching program specifically to your needs, and they know just how much effort to put into your stretches to make you feel great!
Come in for a free trial and discover how good being stretched can make you feel.  We can ALMOST guarantee you might even feel a little taller after you have been stretched.
Our stretching session can be as short as 15 minutes, or as long as an hour.
Packages and gift certificates are also available to fit any budget.
Come in and start feeling better today!