How To Stop Your KNEE PAIN Without Injections, Without Pills and Without Having To Wear A Brace…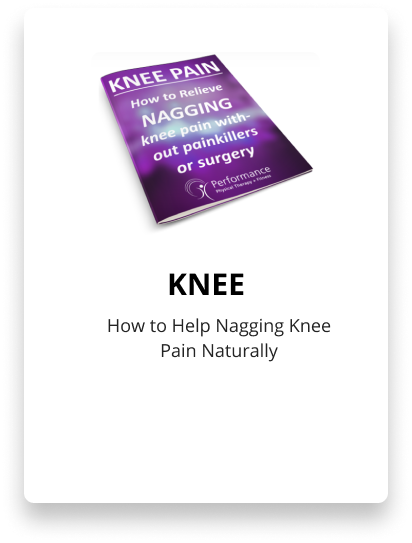 Have you stopped doing the things you love to do because of pain in one (or both) of your knees?
Have you decided that it is 'just what happens when you get old"? Do you decide on doing things outside the housed based on how much walking is involved, or where the next available seat is?

If that's happening to you, you're not alone – we hear this type of thing all the time. In fact, Knee Pain is one of THE most common problems that we see in our offices in Hockessin, Wilmington, and Churchmans.

And when it comes to living with Knee Pain, everybody we see wants to know the answers to these questions:

"Why isn't this getting better by now?"… or

"Am I going to have to live like this the rest of my life?"…

Everyone thinks their knee pain with get better 'next week'… But then 6 months later you're still living with the discomfort of knee pain – often even worse than it was when it came on.

Does That Sound Like You?
After waiting for it go get better over time, many people then go to their doctor, get an X ray, as well as a prescription for pain pains or anti-inflammatory pills. If that does provide relief, it often is short-lived, and they go back to their family doctor to get more pills, or a referral to a surgeon. In the meantime, the pain is still there, and more activities are getting harder to do. If it wasn't for leaning on that grocery cart, even getting groceries would be almost too much!

Has That Ever Happened To You?
Maybe you are confused because it seems like now every person you know has had knee pain, and they are quick to tell you there difficulties. They are quick to tell you how they manage their knee pain, and even suggest all kinds of different exercises, lotions, potions, and healers. It's very confusing to know exactly what to do – and that's just to avoid making knee pain worse! Many people are in this 'limbo', not knowing where to turn or who to get to help them.
We're Giving Away FREE Report!
FREE: How to stop KNEE PAIN in it's tracks without surgery, braces, or depending upon pain killers or anything else! This report is for you if you are looking for some help NOW! This currently FREE report includes all the exercises and tips we give our patients to help give them relief from the aches and pains keeping them from doing the things they love. Just click the button to download now!
If You're Currently Living With Knee Pain
Here's 7 More Reasons Why It Could Be Lasting Longer Than It Should:
If any of these have happened to you – we would love to help you by inviting you to book a call to talk with one of our PT Clinics in Hockessin, Wilmington, or Churchmans, Delaware, to find out what can be done to help you.

The fact that you've tried any or all of these things already is actually a GOOD THING because when you know what doesn't work – you are closer to finding the thing that does!
If you are sick and tired of not being able to do the things you love, you owe it to yourself and your family to come in and start feeling better today!
What Can I Do To Get Rid Of My Knee Pain Quickly?
Well, here's 5 things you can do:
If you would like to know how the PT team at Performance Physical Therapy (clinics in Hockessin, Wilmington, and Churchmans, Delaware) can help you live with less knee pain – we invite you to start with a completely free, no-obligation, risk free discovery visit at one of our 3 clinics:
Note: This Free Discovery Session is something that we offer to people who are very nervous or skeptical about Physical Therapy – unsure of its benefits or if it is right for them. If that sounds like you, then please start with a free discovery session so that we can work with you to find out what is wrong and what can be done – without any financial risk on your part.
How Can Choosing to See a Physical therapist at Performance Physical Therapy Help You Get Rid of Your Knee Pain – In The Next Few Days
Here's what we have been doing for almost 30 years in Delaware:
Still wondering if we are right for you?
Check out our google reviews (literally hundreds of 5 star reviews!)