Massage Therapists
At Performance Physical Therapy, we honor the tradition of hands-on, healing touch with modern methods of massage therapy.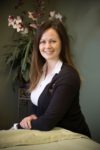 Nichole Graham, LMT
Nichole grew up in the Pike Creek/Hockessin area. She has been a licensed massage therapist for 6 years and has gained invaluable experience working in local chiropractic offices. Informing people on the importance of taking care of themselves physically is a high priority for her. Massage therapy is a great first step to take to learn more about your own body.
She is currently enrolled in the Physical Therapy Assistant Program at Delaware Technical Community College and loves to spend her free time going to the park with her dog, working out, and cooking. Nichole does double-duty as a physical therapy aide as well as our massage therapist. We feel extremely lucky to have her on staff!